You will be picked up from your Queenstown accommodation at the pre-arranged time on your Fly Fishing Queenstown Expedition. We will drive for up 90mins to take you to waterways that will suit you, the weather and the river conditions on the day. Then, you spend the day casting to stalked and sighted fish ranging in size from 3lbs – 5lbs, (20+ inches) and always with the possibility of seeing and hooking into much larger fish.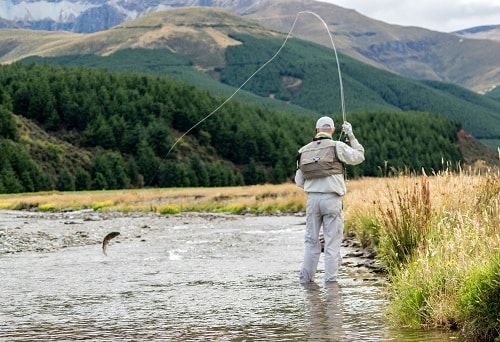 The Queenstown Fly Fishing Area & Rivers
There is a minimum drive of 40 minutes for Queenstown fly fishing expeditions to the nearest good rivers. Therefore, full day expeditions are the only real option to get you to good Queenstown fly fishing opportunities. Many of the rivers take 2 hours driving one way to access.
Due of the way the weather patterns work makes this a very good thing. Because, on any given day we can work with the weather to offer you good fishing opportunities. This depends on where the weather is coming from and where the rivers will be in the best condition. The landscapes range from lush green farmland, open tussock lands, mountain beech forests and stunning mountain scenery. These have beautiful spring creeks, freestone rivers, alluvial rivers and alpine lakes to running through them. Once at the chosen river the day is yours to fish. When you are satisfied, it's time to head back to the 4wd and Queenstown.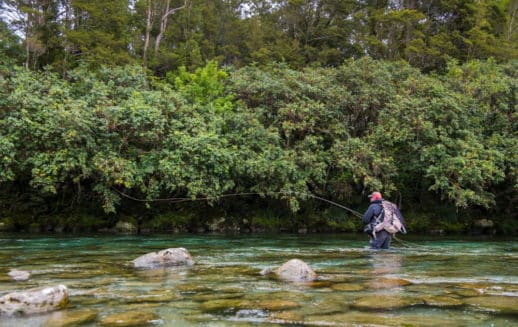 Queenstown Fly Fishing Waters
All of these Queenstown fly fishing waters have large wily brown trout and some have a mix of rainbow trout as well. A few of our southern rivers have runs of sea trout after Xmas and also some small runs of Chinook salmon in Feb and March. The average size of fish we catch is around the 20" mark (around 3 – 5lbs) and many well over that size. Opportunities for true NZ trophy trout on a Queenstown fly fishing trip are always possible with 10lb+ fish being landed each year by lucky anglers.
Queenstown Fly Fishing Best Times
The Queenstown fly fishing season starts on 1st October and typically the rivers will be high from snow melt dropping as the month's progress. The fish will be well rested in the early part of the season, as they will not have seen an angler for five months. Dec-March is the prime season with surface insect life at its peak and 70% of fish caught will be on a dry fly. The big, bad and bold fish may take a little extra encouragement and a nymph fished under a dry can often be the recipe for success. April sees the start of more changeable conditions with a good chance of Mayfly activity on some waters. Dry fly, terrestrial and nymphs are all used depending on the conditions.
Early season: 1 Oct – 30 Nov
Peak season: 1 Dec – 30 March
Late season: 1st April – 31st May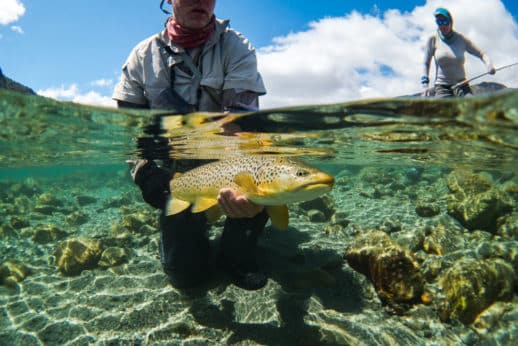 Cost: NZD 1100.00 (plus credit card fees if applicable)
Price includes: 1 days guided fly fishing, safety and risk management, DoC concessions, 4WD transport and GST.
NB. The guide is shared between two anglers.
Note: Price does not include: food, fishing licenses, helicopter excursions, boat trips or gratuities. Clients are required to supply/pay food for lunch and purchase their own fishing license.
Please note: If you are not bringing your own fishing equipment there is a daily charge of NZD 50.00 per angler for waders, boots, rods and reels.
Season: The 2023 season runs from 1st Oct 2023 to 31st May 2024
Please note If you are not bringing your own fishing equipment there is a daily charge of NZD 50.00 per angler for waders, boots, rods and reels.
Fishing licenses are not included as part of our Queenstown fly fishing expeditions. This is because many customers are fishing in other places through out NZ have already purchased a full season license. Therefore, we do not wish to penalize you by including it in our pricing structure.
A NZ Full Fly Fishing Season license costs NZ$153.00 per person for a NZ resident. A Non NZ Resident is NZ$264.00. New Zealand Full Season licenses covers every where in NZ with the exception of the Taupo region. A Designated Waters Fishery license may also be required. A Day fishing license costs NZ$ 37.00 per person for non residents. These do not allow the ability to fish in certain blue ribbon fisheries. Go to Fish and Game NZ to get your license. Please let me know if you need help in choosing the correct one.
The best option for Queenstown fly fishing expeditions is a full season license or non resident license. This will allow us access to the best water and is mandatory if you are Heli Fishing.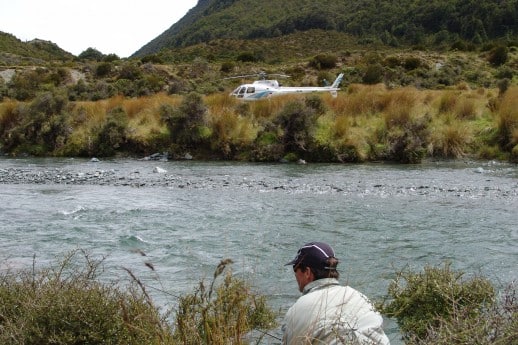 Heli-Access – We have many rivers that are only easily accessible by helicopter from Queenstown or Wanaka. So, if you prefer we can organize helicopter fly fishing expeditions to get you into remote back country areas. If you really want to unlock some of the very best fishing in New Zealand, day outings by helicopter can be arranged by talking to your guide. We can work to fit in with the best weather during your stay in then area. This allows unparalleled access to the wildest and most remote of streams. Some of which may never have been fished by another angler all season. These add-ons will incur an additional expense for the helicopter and landing permits. NB. POA for heli-fishing trips.