As the days are long and hot fly fishing Queenstown back country can be quite arduous on the body with many kilometers covered to get some of the best fly fishing in New Zealand (unless you take a helicopter). I had a day like this yesterday fly fishing Queenstown back country water with a young and fit client.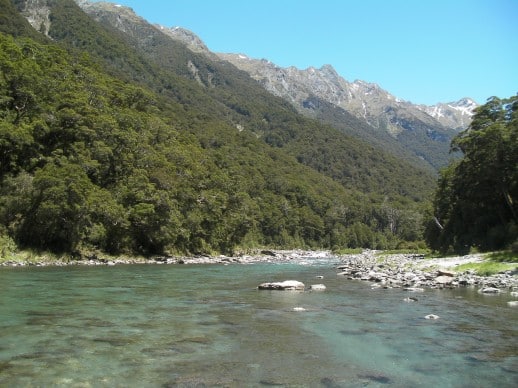 It's always interesting to see how anglers approach a big day out fly fishing and also what happens to them during the course of the day as heat and fatique take its toll both mentally and physically. The angler who does not prepare well will get tired and miss easy opportunities that an equal ability angler who is well prepared takes all the opportunities and converts them with a high degree of success.
A lot about fly fishing Queenstown (or anywhere) successfully is about using the top 6 inches well. Here are some things that will help you maximise your fly fishing chances during the day and be at the top of your game.
1. Eat well the night before (not big necessarily but healthy and nourishing food) and don't drink to much booze!
2. Get a good nights sleep, it's hard to operate well on a big day if you only have had 4 hrs sleep. Go to bed a bit earlier ….. yes I know you  are excited about your fly fishing Queenstown expedition but still  …….. go to f#*king sleep!
3. Wake early enough to have a decent breakfast. Enjoy that coffee but maybe only have the one …. it does dehydrate you!
4. After the coffee drink some water ….. now drink some more …… yes you will piss a squillion times!
5. Make sure your hydrapak or drink bottle is full. I like using a hrdyapak as I can drink easily all day long as I fish and walk. Its easy to forget to take the water bottle out of your pack/vest to drink as often as you should. You should drink 2 litres minimum ….. yes you will piss more!
6. Take food that is easy and fast to eat or nibble on and is packed full of energy. Eat often through out the day.
7. Pop a pill once or twice during the day ….. sounds dodgy but I use Go Magnesium 800 which helps the body to rehydrate by replacing lost mineral salts. It also will stop/reduce the chance of muscle cramps and can also help with sleep if taken before going to bed. I usally take one the night before (see #2) and one during the day.
8. Take a bottle of a sports drink such as Powerade which is full of electroltes and drink it before you start your walk back to the car …. yes more pissing! Another good option is Nuun which is a tablet  that dissolves in water and is full of the good stuff you need to stay hydrated.
9. Use a product like Gu (you can get these at any good sports store such as RR Sports) …. take 2 or 3 with you for the day and whack them back as neccessary …. big energy kick (oh they wont make you piss more).
10. When you get back to the car after that long hike out from your favourite back country fly  fishing spotX, drink some more water before you have that well deserved cold beer/s. Yes guess what …. you will piss more!
11. When you get back from the end of your fly fishing Queenstown back counrty expedition eat well again and try not to hit the booze to hard as you tell the days stories to your wife/girlfriend who is of course listening attentatively to every word (as she tries to stiffle the yawns).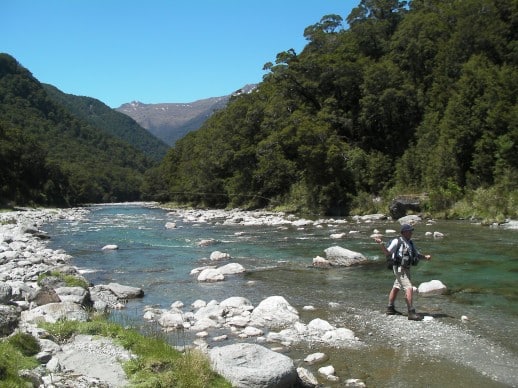 At first you might consider some of these things a bit of a hassle but over time  they will just become part of what you do on those big days out fly fishing NZ. They will help you keep in tip top shape both physically and mentally through out your day and will play an integral part in helping you catch more big New Zealand fish.